Read Time:
3 Minute, 38 Second
Table of Contents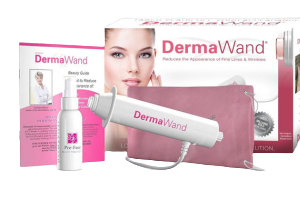 The Derma wand hand-held skin care rejuvenation system is an innovative concept that uses a combination of science and technology to create a professional-grade skin care treatment that can be done in the comforts of your own home.
The signs of ageing have been an issue we all face whether it is premature ageing or the eventuality of ageing that we all fear; many pay hundreds if not thousands for facelifts or monthly visits to a specialist or doctor for treatment just to achieve a healthy, youthful and younger looking skin.
This system uses the same technology as the large machines used by a specialist. It utilizes a lower scale of the professional grade machine which makes it safe for home use. Derma wand utilizes the combination of radio frequency effects of thermal energy, stimulation and oxygenation it can be used on all parts of your body: face, neck, arms, legs, chest etc., and pore size will appear visibly reduced. Derma wand can help in cleaning the build-up of debris in skin pores, reducing the wrinkled or sagging appearance.
On the official Derma wand site, a system is offered to be tried for 30 days with free shipping if you like the product your card will be charged three monthly payments of $39.95 plus shipping and handling which is a one-time payment of $ 14.95.
The Derma wand was founded and invented by Christina Boves who has been in the industry for over 30 years. Derma wand is owned by International Commercial Television Inc. (ICTV) owns all of the rights to the Dermawand.
The Derma wand works as follows:
THERMAL ENERGY – gentle microcurrent (Microcurrent Electrical Neuromuscular Stimulator or MENS) delivers thermal energy to the dermal areas under your skin's surface and increases dermal skin temperature to help support your skin's natural healthy look.
ENRICHED OXYGEN – gives off enriched oxygen which bathes your skin while you're using it. The enriched oxygen is a natural cleanser that helps reduce pore size.
INSTANT STIMULATION – delivers gentle microcurrent at 168,000 cycles per second, producing a massage effect that helps improve circulation and bring fresh blood, oxygen, and nutrients to the skin's surface.
Derma wand does not have any ingredients as it is an electronic device and the wand can be used with any skin care products you are currently using.
The Derma wand is simple to use, but before using the wand read and watch the instruction guide and video before use;

Cleanse face with preferred cleanser and pat dry.
Place the wand on the face and keep the wand in contact with the face moving in upward and or in a circular motion while gradually increasing the setting to a comfortable level best result at a higher setting.
Around the eyes make sure the wand is always at the lowest setting
In a circular motion sweep the wand over the neck and face in an upward motion do this for a minute
Then apply your favourite moisturizer in a small amount to the neck and face work moisturizer into the skin with a sweeping motion over the neck and face for up to three minutes.
Advantages:
Long Lasting product if cared for properly
It is easy to use
Quality product
Not many side effects (if any)
Works with your regular skin care products
Cost-effective
Disadvantages:
Using it may be uncomfortable for some because it uses microcurrents.
The noise level
The Derma wand overall is a good product that can save hundreds of dollars, It has been proven to work and uses the best of science and technology to bring an advanced system to the comforts of our homes. It also works in combination with our regular skin care regimen and products. It is easy to use and will eventually pay back for itself because of fewer trips to a dermatologist and a safe alternative surgery.
Backed and loved by over 3 million loyal users worldwide… and counting!
Join a Community of 3 Million+ Satisfied Users Worldwide! Experience the Trusted and Loved Derma Wand, Your Ultimate At-Home Skin Rejuvenation Solution. Discover the Science-Backed Innovation Today!