Read Time:
4 Minute, 3 Second
In this article
GenF20 Overview
Human growth hormone is naturally produced in the body by the pituitary gland. This hormone contributes to growth in childhood and helps sustain organs and tissues as you get older. When you reach middle age, growth hormone (GH) production slows, leading some to believe that supplementing with GH can reverse ageing and increase vitality. However there isn't any conclusive evidence that taking real or synthetic GH has anti-ageing effects or increases muscle mass, and its use can lead to joint and muscle pain, oedema, and even diabetes.
What is GenF20 Plus?
GenF20 Plus is a dietary supplement that aims to stimulate your pituitary gland to produce more GH. In theory, its ingredients might prove to be a safe alternative compared to direct GH supplementation, so we dove into the science to discover its true potential.
Is GenF20 Plus safe?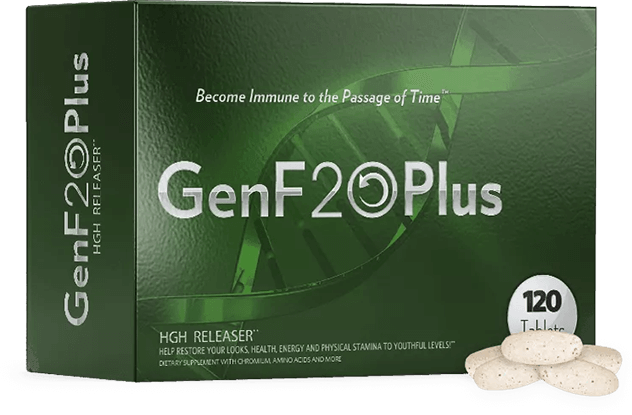 The safety of any supplement is a paramount concern. In the case of GenF20 Plus, the aim is to stimulate the body's natural production of growth hormone, which theoretically should be safer than taking synthetic or real GH. However, it's essential to consider the ingredients and any potential side effects. GenF20 Plus does contain some ingredients that may cause allergies in individuals, such as milk and soybeans.
Pros
A clinical trial showed increased IGF-1 levels in adults.
Does not contain real or synthetic GH but stimulates GH production in your body.
Several ingredients appear at clinically relevant doses.
Offers a 67-day money-back guarantee.
Ships quickly and discreetly.
Provides free shipping on all orders.
Cons
Weight loss and other physical factors were inconclusive after a 12-week clinical trial.
Some ingredients have questionable effectiveness, according to research.
It's missing one of three essential amino acids.
The company's claims about side effects are misleading — its trial produced several.
Contains potential allergens such as milk and soybean.
Why you should trust us
Our research team has spent thousands of hours poring over scientific literature around fitness topics, with a close focus on many of the ingredients present in GenF20 Plus. For this review alone, we read and analyzed the findings of nearly 50 research papers and studies. We've also spoken with several experts in the field, including ACE-certified nutritionist and registered dietitian Reda Elmardi, snippets of whose interview you'll find throughout this review.
Like all health-related content on this website, this review was thoroughly vetted by one or more members of our Medical Review Board for accuracy. We'll continue to monitor developments with GenF20 Plus and the fitness landscape as a whole to keep this article up-to-date.
Over the past two decades, Innerbody Research has helped tens of millions of readers make more informed decisions about staying healthy and living healthier lifestyles.
Ingredients in GenF20
GenF20 Plus contains a blend of amino acids and botanical ingredients. These include arginine, glutamine, lysine, tyrosine, GABA, colostrum, anterior pituitary powder, phosphatidylcholine, and more. While some of these ingredients have been associated with growth hormone production, the effectiveness of these components can vary from person to person. It's important to note that the product is missing one of the three essential amino acids.
Customer Reviews
Customer reviews of GenF20 Plus are mixed, which is common for dietary supplements. Some users report positive experiences, including increased energy and improved skin texture. Others are less satisfied and note no significant changes in their health or appearance. As with any supplement, individual results may vary.
Our Expert Review
Our expert review found that GenF20 Plus may have the potential to increase growth hormone levels in adults, as evidenced by a clinical trial that showed increased IGF-1 levels. However, the overall effectiveness of the product is inconclusive, and the company's claims may be exaggerated. The trial did produce some side effects, contrary to the company's statements.
How Does It Work?
GenF20 Plus is designed to stimulate the pituitary gland, encouraging it to produce more growth hormone. The blend of ingredients in the product is aimed at promoting this natural GH production. The exact mechanism by which it achieves this is not entirely understood and may vary from person to person.
Conclusion
In conclusion, GenF20 Plus is a dietary supplement that aims to increase growth hormone production naturally. While some clinical data supports its potential effectiveness, the overall results are inconclusive. It may work for some individuals, especially those who could benefit from increased amino acid intake. However, it's important to consider the product's limitations and potential allergens. If you are considering using GenF20 Plus, it's advisable to consult with a healthcare professional to determine if it's suitable for your specific needs and health conditions.
✅ Massive Sexual Stamina 🚀

✅ Firmer & Stronger Erections 🚀

✅ Increase Semen Volume 🚀

✅ Climax On Your Watch 🚀

✅ Increase Sexual Desire 🚀

✅ Firmer & Stronger Erections 🚀


✅ Supercharge Libido 🚀

✅ Frequent & Intense Orgasms

#3 Extenze Male Enhancement

✅ Maximum Strength 🚀

✅ Enhanced Pleasure & Performance

✅ Improve your sex life 🚀

✅ Boosts Energy & Vitality 🚀

✅ Supports Harder & Firm Erections

✅ Support Sexual Stamina & Energy 🚀

✅ Enhance Arousal & Improved Sexual Desire

✅ Quality of Ingredients 🚀

✅ Massive sexual energy, drive, & stamina

✅ Firmer, stronger erections that last 🚀

✅ Increase semen volume and motility 🚀

✅ Climax on your watch